We are very proud to show the very first New Kalos Linn LP-12 Plinth in certified English Oak - they are now available to order and in our
See you all at the Hi Fi wigwam show 2016
Please Click on the Missing Link Logo to see our new website www.missinglinkcables.co.uk
This website will be moved very soon but kept as a leagacy and information site at a new addres for those interested i have enjoyed writing this site over the last 15 years but hopefully you will enjoy our new website even more
A Great Show of you missed out on all of the incredible new equipment including the New Amplifiers From Vincent Support Equipment From Award Winning Atacama and the fantastic new Vinyl Passion VP-12 turntables we had on show feel free to call and book your own personal demo in the Vinyl Passion Music Room..
Alaqeia MK II Hand built interconnect only £99 Book a loan cable today
New Vinyl Passion website and shop now open..
1-10-14
3-9-14
Hi Fi PIG Speciall on The Vinyl Passion music room out now
http://hifipig.com/free-magazine-2/
25-5-14
New Vinyl Passion 'Orpheus' Top Plate - upgraded & strengthend - Now available for your LP-12
This VP 'Orpheus' Top Plate is 50% stronger than a standard Linn top plate reducing vibration
And also retains the classic standard look of your LP -12
This Kit comes complete with a full new Stainless Steel bolt kit including suspension bolts and washers
Pictured below is a 'Kalos' Quarter Sawn English Oak plinth fitted with the VP 'Orpheus' Top Plate
The VP 'Orpheus' Top Plate kit complete with fasteners is £125.00
- Please phone to place an order or visit our Ebay Shop -
All New Vinyl Passion website coming soon... followed by all new Missing Link Website
14-5-14 First Production Vinyl Passion Unity Two Kalos Plinthed LP-12
We are very proud to show the very first New Kalos Linn LP-12 Plinth in certified English Oak - they are now available to order and in our demo room .. we offer a full fitting and rebuild service to the highest standards at fair prices
It is fitting that we are in the Heart of Sherwood Forest as Kalos make the only genuine English oak plinths for your LP-12
They offer the finest quality & craftsmanship both sonically and aesthetically available at any price.. each piece is produced on a commission basis
Prices start from £795 for certified English Oak.. many other options are available by request from an Ebony inlay to a Gold leaf finish in wood of your choice..
Kalos Plinths are only available from The Missing Link& Vinyl Passion UK
Kalos also offer a stunning bespoke hi fi cabinet service and can even match your furniture to your plinth ... there will be a new Kalos Bespoke website open very soon
Kalos is simply the finest English craftsmanship available and have been producing some of the finest commissions in some of the most exotic woods from around the world for over 20 years.
21-4-14
Kalos Hardwood plinths & Bespoke Hi Fi furniture
Coming soon Exclusively to Vinyl Passion The finest Quality Kalos Bespoke Turntable plinths...
Kalos Turntable Plinths can be custom matched to your Kalos Hi Fi furniture from a full Hi Fi rack that can be made to look like a piece of beautiful furniture when not in use to a bookmarked matching coffee table
Kalos Bespoke Joinery is not simply furniture.. Each piece is a work of art in its own right.
Created by British caftsmen from the finest Ethically sourced English Timber with English Quarter Sawn Oak being a Speciality and more than just material its a piece of English Heritage..
The New PH-700 Valve Phono stage has arrived in our music room its amazing value with switching MM/MC at only £549
be one of the first in the UK to hear this superb piece of Audio engineering this will become a cult product see our face book page for our first views
Hi Fi World review of the Unity Two upgrade out now come hear our amazing turntable for yourself
The Very Best of British engineering at a fair price
Vinyl Passion Music room Scalford Hall Hi Fi show 2nd of March 2014
Want to hear the Vinyl Passion Unity LP-12 for yourself ? simply book a demo with us for the Midlands, Brian & Trevors Manchester or Ming Da Audio Great Malvern
Or ask your local dealer to contact us for stock
Latest Unity Two customer Upgrade reveiw..

Dear vinylpassionuk,

Hi Mark,

Just a final note to let you know how the system is going.

Turntable has settled and re leveled, cart aligned, tracking force set and suspension has a nice bounce ( settles in 30-40 oscillations ) I think there is more settling to go, but I want to listen to some music first.

It has become extremely sensitive to VTA and tracking force. I see this as a good thing, it means that details that simply mushed together before are more discernible now and everything is more sharply focused Bass goes down much deeper and with more detail also very sensitive to VTA.

My son, who is of the MP3 generation, and listens to things that sometime resemble music, came around and had a listen. He may have better ears than me, but I think I have more educated ones. I played Eva Cassidy's Fields of Gold (on 180g vinyl 2013 production) He was transfixed! What is worrying is that he wants to bring his friends around to listen. I hope the Unity 2 is son proof!

Overall, what the Unity 2 has done is bring out the feeling of being there, when you are convinced that there is a living, breathing presence in front of you, something that transcends just sound. It is something that vinyl can do easily that digital finds hard to do. In my experience, it is something that only the best systems can achieve and I don't think there is any measurement for it. The Unity 2 + a reasonable condition used Linn, with a half decent arm (maybe a Rega) plus a MM line contact cart, can get anyone there at a cost that doesn't require you to mortgage your house.

I thank you from the bottom of my heart (and ears) for bringing the Unity 2 to the audio world!

Best wishes,

Stephen... Brisbane Australia
Latest Customer Dust Buster review...
http://backonthetracks.com/2014/02/04/come-on-folks-keep-your-stylus-clean-the-vinyl-revival/
A very special Scalford Hall Hi Fi show for the Missing Link Team
March 2nd 2014 in the main lounge
Anybody attending the show and placing an order with us on the day of £99 or more will have the entrance fee to the show refunded...
For the first time 1n 15 years The Missing Link Vinyl Passion Music room will be at the Scalford Hall 2014 Hi Fi Show
For your listening pleasure...
Our Latest Cables and our Vinyl Passion modified LP-12 Turntables with be spinning some classic vinyl
We will be attending this years Scalford Hall Enthusiasts Hi Fi Show and taking our favourite equipment from both Vincent & Ming Da all linked together with our top cables and the superb Quad ESL 2085's... For those who went last year you will know what a wonderful relaxed atmosphere this show has with genuine enthusiasts displaying their systems simply for the love of music !
A perfect opportunity to listen to our unique range of hand built cables & turntables including the new Passion Signature phono cable and our Unity Turntables .. With a little luck there will also be the first of our new isolation shelves and also the chance to hear our Vinyl Passion special Unity Two Linn turntable fitted with the latest Benz micro-S with some wonderful first pressings on vinyl all for your listening pleasure..
Jan will also be taking some home cooked goodies and Wine so come and spend a musical afternoon with us
We hope to see you there !
I have been building & restoring turntables for years my love of vinyl needs no introduction.. its strange you can build 2 turntables from identical parts and they will both have subtley different characters... so many variables I suppose... ...yesterday I was putting a new demo turntable together I already know how good the engineering of the unity lp-12 turntable is and I am familiar with how good it sounds with the standard Linn supplied Project 9cc arm I am not a fan of project mostly but must admit this is a superb arm at its price point.. I fitted the new build Unity One with a Jeff Spall Audiomods 4 and a trusty Glider S from Benz and in all honesty its the finest tt I have ever encountered - this combo just blew me away. I feel sometimes a certain arm + a certain cart etc bring out the very best in each other and when bolted to the new Unity chassis this must certainly be the case... I have never heard this arm and cart combo sound so good and I have used it on many combos including the mighty model 30 from SME as my reference listening cart... I cant imagine anything sounding better and I have heard a lot of tt's over the years the unity mod combined with this arm and the benz its truly spellbinding ... I should have been in the workshop at 8:30 this morning building cables but have just finished listening to my 4th lp of the morning Aliens ate my Buick by Thomas Dolby.. Budapest by blimp was stunning just before being brought back to earth by Jan reminding me that we need to pay the mortgage somehow.. lol so impressed with my morning I just wanted to share... totally spiritual.... I know what I am doing tonight and you are welcome to come join me anytime!
21st 22nd Whittlebury Hall
Click for info
Brian & Trevor's Nurburgring Suite
Vinyl Passion Unity Two Upgraded Linn turntable Missing Link Reference Cables
Ming Da UK Syndicate 20
Vinyl Passion Unity One Turntable Missing Link Reference Cables
Vincent News 14-9-13
Coming soon the All new Vincent 237 Integrated amplifier a 150 watt per channel into 8 ohms powerhouse
300 watts into 4 ohms offering the very best of both Valve and solid state for those looking for the convenience
of an integrated amplifier with power to spare & a sound to beguile the Vincent 237 is a hard act to beat...
Click picture to read the first look review
Rumors at Vincent HQ also has it they have an exiting new phono stage coming very soon
Given the success of the unbeatable PHO-8 We are expecting great things and if its as good as we suspect
We will have one available for audition as soon as they are available
Latest Customer Feedback 29-8-13
Hello Mark,
Please find below as requested a review of the Unity One.
" In the eighties 'British Rail' had a slogan "Let the train take the strain" .The adverts showed a train speeding along with stress free passengers avoiding the hassle of traffic jams.
Listening to the 'Unity One' made me think of this advert. The sound is so effortless, tracking is vastly improved, inner groove distortion disappears, sibilant vocals are reproduced with a complete sense of correctness, all from a quiet background.
The Naim Aro retains its liquid and sweet presentation but the treble is more incisive with greater impact and the sound is more tactile with a greater sense of space. The base sill retains its slight softness but is more dynamic.
I have been purchasing Hi Fi for 50 years and have never achieved such an upgrade for such a small outlay. "
I have included peter's contact information as he requested he is happy to communicate with prosepective customers…
Peter G. Somers.
peteranddiane@blueyonder.co.uk
15-8-13
Innovators not imitators
Our new ultrapure formula has broken previous records again making our connectors so good its almost below measurement and a 400% improvement on our previous EPS range of connectors which were already the best in the world... This improvement makes all of our power connectors and ultrapure Silver plated cable even better value and performance than ever before...
This is the fruit of a further 7 year research program with our consultant chemist and the Electroplating company and a breakthrough into making the ultrapure system even better by using superior laboratory grade Silver and our newly formulated system for the hard plating process that has slowly been fine tuned to achieve as close to perfection as possible
Needles to say we are extremely happy with the results of our research the results are nothing short of staggering in performance
The results speak for themselves its a shame you will not see this exciting work in the Hi Fi press but as usual they show little interest in genuine research
Unity One & VP-1 Armboard now available for Naim Aro Unity Two coming very soon
A Weekend At Ming Da UK with the new Vinyl Passion Unity-One
Needless to say Jan & Mark from The Missing Link had a great time installing the new 'Vinyl Passion' Unity- One for Ming Da UK.
They are both very pleased to say that after auditioning several competitor turntables Ming DA chose The Missing Link's new VP Unity- One turntable for their UK Headquarters to be able to demonstrate equipment to the very highest standards and with their special Ming DA philosophy of offering unparalleled performance and value - and all set in the scenic foothills of Great Malvern.
A wonderful afternoon was enjoyed listening to Mark's excellent collection of Mobile Fidelity pressings through what has to be the best quality & value of Valve Amplifiers available today.
The 805 Mono's combined with the MD7-SE was simply stunning - adding the 2006 Phono Stage and all were simply blown away by the wonderful music flowing from the loudspeakers unleashing the full potential of the Unity- One at a price that simply embarasses the competition ... Did someone say competition ?
It can honestly be said that this system has no competition at its respective price and very little at considerably more !
During the visit Mark of Ming Da kindly allowed a small insight to his latest 'secret' project - a superb quality 3 valve Phono Stage that is rumoured to be available soon and at a very affordable price.. talking sub £500 yet with a sound that is highly superior and not that far from the Ming Da 2006 ..... Be sure there will be one in The Missing Link demo room the moment Mark releases them !

With delicious salad , fresh fruit juices and green tea all round the afternoon slipped by far too quickly as is always the case when in audio nirvana with passionate like minded music lovers - and no beer in sight honestly !

Thankyou to Mark & his lovely wife Rachel for their genuine friendship and for opening up not just their demo facility but also for sharing their home and also to Phil for his infectious enthusiasm and a wonderful smile
From right to left Phil of Ming Da UK - Our own Mark of The Missing Link and Mark of Ming Da UK
Hi Fi Choice review Silver Surfer by David Price
Vinyl PassionUnity-One & Unity-Two Upgraded Turntables & Reference cables Now on Demo
Brian & Trevors & The Missing Link
Unity One Turntable on Demo @ Ming Da UK Great Malvern Worcestershire
Vinyl Passion built Unity-One With our own design custom Cherry plinth With Gold Carbon Print £POA
Vinyl Passion built Unity-Two Black with full VP upgrades £POA

Both Turntables are available for demonstration @ our premisses by appointment
The Unity One & Two Upgraded Linn LP-12's are also on Demo At
Brian & Trevor's Our Appointed fitting Specialist

1969 Thorens TD-150 MK-1 With genuine Henk wallnut plinth & armboard VP Restored & built to customers spec with RB-250 Sumiko Pearl new power supply components Linn suspension and upgraded Blue Springs + custom clear acrylic lid ready to be installed and serve for many more years.
We always keep donor TD-150'S and LP-12's in stock ready to be built to your spec from as little as £500 for a Fully restored original unit with many custom options we also have a selection of VP turntables rebuilt to the very highest standards available for demonstration.
you really should hear one today they simply sound stunning
Transform your LP-12 into a super Deck
The Unity One & Unity II Superb engineering at a fair price
Hearing is believing book a demo today
The First Unity - Two Armboard leaving the production line being checked for perfect tolerance each unit is post machined from a solid block of Super Alloy after the final heat treatment hardening process to meet exact tolerance This is easily the stiffest arm plate chassis combination available for your LP-12 to extract the maximum information from the record grove with minimum coloration... Rega SME & Naim will soon be available all precisely weight matched to the chassis
Picured Unity-two All Alloy Armboard and Chassis £478 with VP Blue spring upgrade +£35
Now Available for Order for your LP-12 Manufactured from Solid Billet Heat treated Aerospace 7000 Alloy
Unity one Subchassis and VP-1 Armboard introductory deal Linn - SME - Rega - Naim £379
Subchassis only for existing VP-1 Armboard owners £329
VP-1 Carbon Polymer Armboard £69
Unity II Airospace Alloy arm board Linn £149 (Rega SME Naim comming soon)
VP Blue Springs £35
Pictured Unity One Chasis +VP-1 Carbon Acrylic armboard £379
We are looking for quality fitting centers world wide to represent our products if you feel you offer excellent service and specialise with the LP-12 feel free to contact us for trade terms
Available now From
The Missing Link
Please note we are happy to professionally Torque fit your main bearing to the chassis with improved stainless bolts for best results if you post your main bearing to us
Prototyping the Unity - One & Unity - Two
It has been a long road from the first Drawings & prototypes to the finished product but we are certain we have again produced the finest product on the market that offers superb value in musical terms..
Transform any LP-12 today into a true super deck !
Vinyl passion custom built Unity -One LP-12 in cherry with gold carbon fiber finish... Build quality like no other....
Enjoy...... Mark & Jan
Hi Fi Choice
The Vinyl Passion TD-150
Upgraded Turn-Tables are always Available For Demonstration in our Listening Room
We always have a stock of TD-150's LP-12's that can be built to your custom specification including bespoke colour and special wood finIshes
TD-150 Full width in walnut with carbon fiber finish top plate finish and VP Acrylic armbord ready for a new RB 202 only £499 + donor add Rega 202 tone arm and Pearl cartridge +£280 for a turntable that will provide a lifetime of enjoyment and far superior value to the mass produced turntables of today
New Product...
The Missing Link Major Oak 8 way mains Silver contact distribution unit
Purist mains distribution by The Missing Link Hand crafted in the heart of Sherwood forest
£625 without cable introduction offer £949 with one metre HCX High power cable saving £71
The Biggest Record Fair of the year will soon be upon us again @ the Doncaster Dome
Nice relaxing atmosphere with easy parking
Sunday the 7th of October its a real treat for the vinyl collector
See you all there
http://www.premierfairs.co.uk/
Kyle on his new Trike...
Thankyou to all those who helped.. One very happy little boy
News 25-7-12
We are pleased to say that after considerable time in audition and consultation we are now the specialist dealer installer in the midlands and the North For the Ming Da's official UK range of Audio equipment
Many of you will know that Ming Da have manufactured for several well known british companies and over the years have built a formidable reputation for quality and value.. This brand now offers better Quality & value than ever before under its own UK Banner
After several listening sessions over the last few months i can say with hand on heart this is the finest Quality and value audio equipment i have had the opportunity to offer to our customers... feel free to book a demo today in a relaxed and friendly atmosphere there has never been a better time to make a sound investment in the enjoyment of music..
click logo for full range on offer
please note over the coming weeks you will see our music room pages updated with all of our new dealership info
in the mean time feel free to contact us with any questions or to book a demo...
You really must hear the 805.... this is simply one of the best musical bargains of the decade
All products are coverd by a 2 year UK Warranty
Missing Link Auction for Kyle– Passion Signature Interconnects. We are very pleased to tell you that the auction of our Missing Link Passion Signature Interconnects has now ended very successfully with a price of £510 having been paid by Stephen Taylor of Guiseley. We are delighted with this price and wish to thank all those who took part in the auction. It is our pleasure to pass these funds over to help Kyle get his Trike and we look forward to seeing his beautiful smile as he enjoys his new 'Trike Freedom'.We hope that you have a lot of fun Kyle and wish you and your family all good things for the future. Mark, Jan and Jon (and all of our cats too) at The Missing Link – Mansfield.
http://www.gofundme.com/kyle-hawley-trike-fund
The Winner of First Prize in our You-tube video Competition is Barry Archer of Wolfsberg Germany
Congratulations on your £100 Voucher Barry and thankyou for taking the time to Make the Video..
http://www.youtube.com/watch?v=jlwnUhFvzXE
Your chance to own an Exclusive Missing Link Passion Signature and make a child smile at the same time !
Click on image to go to Kyle's Page .... it's easy to help Kyle Smile
Click this writing to go directly to the Auction
We are trying to help raise funds to be able to buy a disabled trike for Kyle who has Cerebal Palsy and we are hoping that you will all help us with this.
We have decided to create a very Special and Unique pair of Link Cryo Reference 'Kyle Signature' Interconnect Cables made using the very finest & select pure Silver conductors drawn from our purest stock of hand drawn 5n Silver wire reserved purely for building our Passion Signature statement cables.
This will be a Half Metre pair of Interconnects terminated with either Eichmann Silver Bullets or Neutrik XLR's and personally built by Mark and supplied with a Special Certificate with a picture of Kyle on his new trike when he receives it...
We are going to list this Special Cable as an Auction on Ebay Starting on Thursday 7th of June to raise funds for Kyle Hawley's Trike fund.. The starting bid will be £300..00 and the auction will run for Ten Days.
100% of the Auction price will be paid directly to Kyles Fund at
Our Retail price for a pair of Passion Signature Interconnects is £920 so with your help we are hoping to raise a good price for this unique pair of very special hand built pure Silver Interconnects – and you can help a child smile and snap up a genuine bargain at the same time.
http://www.gofundme.com/kyle-hawley-trike-fund
See Kyle's Page or our news page for more information or if you feel you can help in any way.. There will be a direct link to the auction from our news page starting 7th June
http://www.the-missing-link.net/news.htm
This Cable will be Auctioned on E Bay
Auction Starts 7th June @ 7 pm
Kyle cannot ride a standard childs bike and needs a specialist one. Cycling is one of those defining childhood experiences. The first word, the first step,first day at school, the first bike ride; children with disabilities shouldn't be excluded from this rite of passage.
One of Mark's Friends Adam Davies is going to be running the Nottingham Robin Hood half marathon on Sept 30th to help raise funds for Kyle and you can also sponser Adam.... but any donation is greatly appreciated.
Please try and help to put a smile on a small boys face and Help him go for a family bike ride.
Missing Link You Tube Competition
Wether you own a single Dust Buster or a full loom of Missing Link cables this is your opportunity to tell the world about our quality hand made bespoke products we work very hard and have spent many years in specialised research projects to produce the worlds finest hand made Accessories made from the finest materials available... We will be running a You Tube Review competition over the next 12 months drawn every 3 months. Every review of a Missing Link Product that you inform us has been posted on You Tube will be entered into the prize draw the winners will be randomly selected every 3 months and an email will be sent to the winners. this is a competition you have a high chance of winning.. it need not be professional just an honest opinion on our products or services from real everyday enthusiasts you can enter as many times as you like every uploaded video will receive one raffle ticket in the draw
The winners will be published on our website each quarter feel free to supply a picture
First prize £100 gift voucher 2nd £50 3rd £25
Our Customers are our foundations regards to all Mark & Jan
Dust buster you tube video how to mount your stylus cleaner on your turntable inexpensively
DIY Dust buster mount on TT picture sent in by Barry Archer
Dust Buster Stylus Cleaner Awarded Hi Fi Choice 5 Star reveiw May 2012
Link Cryo Reference Interconnect Awarded Hi Fi Choice 5 Star reveiw April 2012
Jack Harris a friend and notable folk singer song writer CD out now
Click picture to see jack play
Scalford Hall this Sunday the 4th of March
- we will be attending our usual stand and are looking forward to meeting customers old and new with some great show specials on ex dem cables and equipment -
Missing Link Pure Silver Reference Cables Personally Requested For The Hi Fi Choice Demonstration Room at
The Bristol Hi Fi Show 2012
Pictured above: David Price - New Editor for Hi Fi Choice Magazine & Mark Sears - Designer & Cable Craftsman for The Missing Link
David Price the new editor for Hi Fi Choice magazine carried out a series of demonstrations in the Hi Fi Choice room at the Bristol Show. At his personal request our pure Silver Link Cryo Reference Cables were used throughout. We are very proud to be associated & involved. Many thanks to all who attended the demos & expressed interest in our products & a special thanks to David for a superb demonstration ... his dedication and passion are to be highly commended
Hi Fi Choice can only go from strength to strength with such a dedicated enthusiast at the helm.
Latest customer feedback on he HCX Power cable
Subject: New High Current HCX Reference mains cable.
Hi Jan, after all the calls last week I was actually away when the cable and plug arrived (mother –in –law not well). But I collected it this morning from the P.O.
Many thanks to you and Mark for prompt delivery.
If you could hear some very loud swearing coming from the direction of London it was me trying to fit the mains plug!! This cable needs bigger plugs! Mark must have the patience of a saint fitting the plugs.
I was feeling quite pleased with myself last night listening to some Vivaldi and thinking how well my recent purchases (an extra Clarity Mains plug from Russ Andrews and a new plug from Brent of Fidelity – high frequency mains reduction) were coming along and thinking I wonder if the new mains cable will be as good as hoped.
After the big trauma of getting the mains plug on and the IEC into position (I had to trim away most of the plastic sheathing with the HX reference logo on to make it more flexible) . I was ready to go.
BLOOMIN ECK , what a cable!! even in the first few hours the HCX reference was soooo vastly superior to the poor old Nordost Vishnu mains cable in all areas right away. The pace and rhythm especially; in fact much to my surprise more so than when I fitted the same cable to the amp.
Why Mark has only sold 9 of these (including the 2 to me!) and not 900 just amazes me .
Will more feedback in due course.
Best regards Brian Daw...
Cheers Brian... and Thanks for taking the time to let us know... our customers feedback means far more than any magazine review and whats more its genuine feedback from a music lover which is more than can be said for the Hi Fi Press who still support those who spend the most on advertising and have little or no interest in supporting the genuine British companies who research and design their own products....
National Audio show Northampton september 2011
lots of Bargains on the day including DIY Goodie bags
3 New products being unveiled from the eagerly anticipated passion signature range
July 2011
New Missing Link Passion signature Krell cast cable now Available
Review coming soon
Simply the best cable available specifically designed for one of the worlds finest amplifiers
TNT Dust Buster Reveiw
http://www.tnt-audio.com/accessories/vp_dustbuster_e.html
Conclusions
The Missing Link VP Stylus Cleaner works. Missing Link proprietor Mark Sears says of the VP DustBuster, "I consider it my gift to the vinyl music lover and a major contribution in the preservation of rare and cherished vinyl".
It works thoroughly and does not seem to have any drawbacks. It's amazing that 20 years after all the major record companies pulled out all the stops to kill off unprofitable vinyl, that sales of vinyl records are increasing and enthusiasts are still coming up with ingenious cost effective ways of making vinyl replay even better.
Power to the people!
Dust Buster Reveiw Hi Fi World..
click picture for more info
April the 1st
Due to the huge increase in base metal prices, especially high purity Silver
We have had to substantially increase the price for our pure Silver cable's
We remain confident that you can buy no better cables at any price !
Dust Buster stylus cleaner & Master series record sleeves reviewed in January Record collector
& March Hi Fi world
Love Vinyl ? Click image and order your copy now
Buxton Opera House ... Jon Anderson's Birthday
The Missing Link team had a great evening in Buxton listening to the wonderful new work from Jon Anderson and Rick Wakeman's new studio recording ...The Tree of Life... If Rick is Laughter then Jon is Love... an evening of love and laughter what more could one ask !
Happy Birthday Jon... if anybody knows how to contact Jon we would like to buy one of his paintings for the Vinyl Passion Music Room
Nottingham Analogue the legend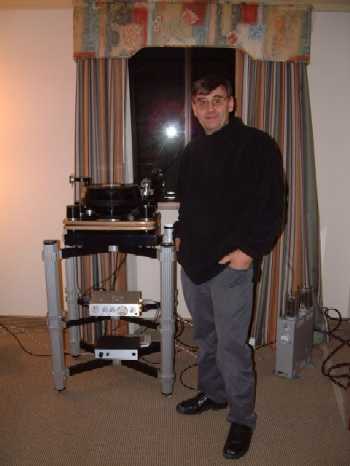 Tom Fletcher
Died Peacefully 18-10-2010
A gentle family man, revered and respected for his wonderful design work within the Hi Fi Industry.
An inspiration to designers and music lovers alike, he will be missed by friends and admirers all over the world.
The New Glider SL from Benz Micro now in our demo room
Love Vinyl ? You must hear this !
Unmatched build quality with genuine high end performance
Simply the best Value available
Vincent's top of the range PHO-8 MM/MC The ultimate in value as with all Vincent equipment £299... Now on demo
You will not belive how good this sounds even in our reference system
Now in stock with home loan available
4-10-2010
We are proud to announce two Vinyl Passion systems now available from our systems page
The Acorn and the Oak-leaf
NATIONAL AUDIO SHOW '...We would like to say Thankyou to all of our customers old and new who helped make this show so successful and enjoyable of all conserned.. We hope to be attending London Heathrow early 2011
Calm Before The Storm
Showman
Just a few of the new goodies on show
A rare picture of Jan...
The Hi Fi world staff just keep getting younger.. Rumor is from this chap the next review will be the X box 360
We had great fun and hope to see you all again soon
Book an appointment today
The Vinyl passion Music room
The finest value v performace audio equipment avalable
We are proud to announce... Icon Audio now available in our demonstration room
Vincent Audio shear musicality with class A & Valve in one box.... now available in our demonstration room
.. New from The Missing Link ..
'Link Cryo Reference HCX' High Current Power Cable
See our Power cable page for more info
Vinyl Passion Thorens TD-150 mkII rebuild
You can pick a donor unit up for as little as £50 on E-bay, its a great way to get back into vinyl and we now offer a range of upgrades for this classic turntable including custom walnut plinths from as little as £150 fitted to bring this original 3 point suspended turntable up to date. This will embarrass most modern designs at many times the cost and is a beautiful piece of craftsmanship..
Vinyl Passion Dust Buster Stylus cleaner Now In Stock £19
All record collectors will know the importance of keeping the vinyl clean to preserve the recording but even more important is the cleaning of the stylus... we inspect stylus and cantilever assemblies regularly and over the years admit to having had accidents whilst cleaning expensive and intricate styli .... Thankfully they were all personally owned !
We have tried many ways of cleaning the stlyus but all have there perils and put undue stress on the cartridge .... That is until we discovered a new method utilising a specially formulated polymer-gel-hybrid that you simply place under the stylus - lowering it onto the gel and then lifting straght off and hey presto the stylus is spotless! we have checked with our inspection microscopes on numerous stylus types and the results are amazing - every time after a few dozen cleans you simply wash it under a tap and its as good as new.. This makes it painless to clean your stylus after every recording with no risk of damage ...amazing ! our first production run of 100 units are now ready 17th of March ..this will retails for only £15 and will increase the life of your stylus by upto 1000 hours and offer the ultimate protection to your vinyl recordings if you clean after each use.
This really is a wonder product and a must have for all vinyl fans you would be surprised the amount of debris you stylus pics up from just one side of a clean LP.....
Picture on left is after 3 clean lp's, picture on right is after treatment
Scalford Hall a great day out it was good to meet so many Missing Link customers Our next show will be in September at Wittlebury hall Northampton
The ones we managed to capture
SME Owner.. note the grin !
Rupert our Quality Control Cat gives the new Missing Link show stand one last check before being taken to Scalford Hall
Rupert apologises to the customers for not being at this years show but he has important cat business to attend to He hopes you all enjoy the show and will try to appear next year.
News letter competition winners update march 2011
Congratulations go to
John Maw first prize £100 gift certificate
Paul Edwards Second Prize £50 gift certificate
Tony Hayes Third Prize £25 gift certificate
Hope you can find something interesting to use your Certificates on... Don't forget you can use them in our Ebay shop too ... And if you visit the Melton Bake Off .. There as well...
__
18-2-10
VP-1 Arm-board was developed due to the poor quality MDF board fitted to the Linn as standard, this mod is a substantial Structural upgrade kit for Linn-Sondek turntable also improving chassis damping & bringing huge improvement in rigidity between tone arm and sub-chassis thus allowing you to get the very best from your tone arm, the standard MDF is surprisingly poor considering the quality of the rest of the chain and this improvement offers far more detail from the cartridge and superior bass control.. When we first heard the difference this could make to any Linn for such a small outlay we were simply stunned... Now in stock for All Sondek LP-12 turntables fitted with Linn mount tone arms unleash the potential of your Linn for only £69 for DIY kit or Fitted for £135.... Rega, SME & Blank boards coming soon...
Scalford Hall March 7th
We will be attending this years Scalford Hall Enthusiasts Hi Fi Show... For those who went last year you will know what a wonderful relaxed atmosphere this show has, genuine enthusiasts displaying their personal systems simply for the love of music ! We will have special offers available at the show a chance to have a look at our range of hand built cables including the new Passion signature phono cable and Evolution loudspeaker cable's.. With a little luck there will also be the first of our new isolation shelves and a sneak peek @ our Vinyl Passion special edition modified Carbon fibre Tone arm Linn turntable.. assuming we can prise it out of the demo room... If you are not lucky enough to be able to make this event we will also be attending the National Audio Show at Whittlebury Hall in Northampton 25-26 September for more information see The Chester group website. see you there.
Vinyl Passion room updated 21-1-10 much more to come
Vinyl passion
The Vinyl passion demonstration room is now open and taking bookings offering the very finest British turntables, Record cleaning machines accessories and also a very high quality record cleaning service, tone arms, phono stages, Pickups, Support systems, Valve & solid state amplifiers,the very finest Audio cables and so much more on offer with a local installation service the level of customer service you have come to expect from The Missing Link staff turntable rebuilds and modification work including setup excellent parking and disabled access and a free cleaning service for any records you bring with you.
2 new phono cables are to be added to the Missing Link family
The entry level Revelation AG 1.2m with custom lengths available to order not to be under estimated by its price this is a world class cable offering a wonderful new level of insight into your music over the majority of aftermarket arm cables on sale fitted with Cardas & Eichmann bullets as standard with optional WBT's and a price of £175 this has to represent outstanding value in sound for pound this will also be available in our popular kit form from £110 … Most of our customers will be familiar with our Log Rhythm and our newest statement cable is a further development of this very successful design the new Passion Signature is very special indeed for those demanding the ultimate in reproduction this statement cable really does require excellent partnering equipment to fulfil its full potential if you are in this fortunate position and a serious vinyl enthusiast it will represent great value at £795 this is a big jump in price over the Log Rhythm but it has taken a lot of work and research over the last 3 years to improve on our existing design and the other extremely high priced alternatives it has been designed to better it is simply the finest tone arm cable available at any price as you would expect of a missing link product both of our new cables have been developed over a long period with extensive independent listening tests prior to their announcement… you will know by now it's rare we announce a new cable to our family yet alone 2 so we are quite exited and both now available purchase or demo and as with all of our designs if you're not impressed we offer a full refund
Hi Fi World Reveiw Link Cryo Reference
2010 Now Awarded Hi Fi World " World Standards our favorite hi end interconnect out performing designs at over 3 time the price" David Price
Hi Fi World Reveiw Link Cryo Reference Power cable v Black Rhodium Reference Power
The Howard Project
A featured customer system to make any audiophile drool - click on the picture to read the full story.
The New Missing Link Ultrapure system
The World's Quietest Mains connectors
Pictured above The Missing Link EPS-100 Ultrapure Silver plated wall socket v high quality MK wall socket..
Generated contact noise caused by contact resistance causes distortion to the 50 cycle waveform degrading the quality of the mains - this is a fact.. that's why we were the first company to introduce Silver plated mains connectors to the market over 7 years ago and we have continually improved this process using our own chemist to produce the highest purity plating possible known as the Ultrapure system as used in our full range of Missing link power cables and connectors as standard.. the test equipment we use for development can measure contact resistance down to 1-10,000 of an Ohm + - 2%
On the left is the contact resistance of a Missing Link EPS-100 wall socket with EPS-500 Silver mains plug pin utilising our newly formulated Ultrpure coating measuring 1.23 milli Ohm - on the right is a high quality MK wall socket with an MK brass mains plug pin measuring 5.11 milli Ohm..
The EPS range of mains connectors offer the lowest measurable contact noise in the world... Fact !
NEW PRODUCTS
The EPS-50 - utilises our specially formulated direct high current acid etched triple plated pure Silver coating. All genuine Missing Link plugs depict our logo, your guarantee of quality...
Read Hi Fi World Review of the Orbit Power Cable
By David Price
Article on Cryogenics published in 'Electronics Talk' ... see link.
Announcing! The CablePod™ – breakthrough in Binding Post technology.
Click on the picture for detailed information
Available In Copper & 4n pure Silver
At last a binding post to match the quality of the bayonet
We are delighted to tell you that Ferguson Hill with their exquisitely designed Acrylic Horn Speakers have chosen to use the Missing Link Cryo Reference Range of Cables at their Demonstration Studio in Camden. They will also use our full Reference Range of cables at the numerous exhibitions and shows they will be attending in the coming year.
We are currently holding talks with an exciting new Cryogenics company
Cryogenic Treatment Services LTD who are working with us to develop a specially formulated process for the treatment of pure Silver that will produce a superior crystal structure. offering the finest Cryogenically treated Silver conductors available we will also be able to offer an extremely competitive cryogenic treatment service for all existing cables & connectors.. More on this exciting work as it develops.
State of the Art computer controlled Cryogenic chamber complete with 3000 litre liquid nitrogen tank .
| | |
| --- | --- |
| | We can now Supply all our mains leads With plugs to suit all countries... including the Schuko/Euro plugs to suit the European market.. |
| | |
| --- | --- |
| | Twice yearly we have a Missing Link Newsletter that we Publish and Post ... |
| | We Will Enthusiastically Welcome any Contributions... |
| | Serious or Funny...Text or Pictorial....Anything Goes (well-nearly !) |
| | Every Publication Has a Competition .... |
| | There are updates on all of our new products and designs.... |
| | If You have a Contribution You would Like Us To Publish....Please |
| | E-mail to newsletter@the-missing-link.net |
| | or Post to |
| | The Missing Link Welbeck House Prest Avenue Meden Vale Mansfield NG209PQ England |
| | To Be Placed on The Newsletter mailing List - E-mail a Request to |
| | newsletter@the-missing-link.net with mailing list as the Subject |