For pricing please see our new website this is simply our legacy site
Love Vinyl Visit The Vinyl Passion Music Room
We have the finest value turntables & backup service and friendly advice you will find
Share in our passion and 30 years of experience to get the very best from your cherished records
We hope to see you soon in our friendly informal music room and hope you enjoy what we have on offer
Regards Mark Jan & Jon
Vinyl Passion Turntables & Turntable service & Upgrades
( unsure ? Simply call for friendly Advice )
Hanns, Linn, SME, Thorens, Rega, Audio mods & Edwards Audio Specialist
Full range of catridges and phono stages available
Custom build LP-12 & TD-150 Turntables & Upgrade specialists
Vinylpassion TD-150 Custom build full stealth Black Finish with the Excelent 5 star rated Vincent PH-700 Phono stage
Vinyl Passion Upgrade kits for both the LP-12 & TD-150
A Few of the Turntables we have on dem
Audio Technica ALP-5 Simply the best value budget turntable on the market budget in price but not in sound
Built in phono stage connects directly to your amplifier nothing else is needed..
We keep this turntable in stock and it is avalable for dem by appointment
Spec...
http://eu.audio-technica.com/en/products/product.asp?catID=9&subID=42&prodID=4775
New Vinyl Passion VP-12 Turntables built to your spec & Custom finish
The VP-12 Is a New Highly upgraded Linn LP-12 at a considerable saving
Vinyl Passion Unity One VP-12 Cirkus New without Arm - full stealth black including platter
Vinyl Passion Unity One VP-12 level one Fitted With Rega 202 tonearm AT 95
Vinyl Passion Unity One VP-12 level Two Fitted With Origin live Onyx tonearm Sumiko Bluepint no2
Book a dem today
New Vinyl Passion VP-12 Unity Two Turntables based un the Linn Cirkus bearing with full vinyl passion upgrade package
without arm or cart... Demo PX-Welcome
Standard finish options - Black - Light Oak - Cherry - Wallnut
Picturerd VP-12 New Fitted with Carbon arm and Grado Reference
Book a Dem today
SME 10 needs no introduction is the finest value turntable at its price
£3800 without arm As dem room turntable fitted with SME 309 Benz Glider SL
Passion signature pure Silver tone arm cable
Book a dem today
Hanns T-30 Simply the finest value high end turntables on the market today
Enjoy both Stereo & mono playback with the minimum of fuss a must for the serious record collector
T-30 Pictured now on dem £4800 inclusive of vat and delivery without arms
The ultimate package for the serious record collector
As Dem Room Fitted with Arm -1 SME 309 Benz Glider for standard stereo playback
Arm 2 Rega 303 + AT Mono LP for dedicated Mono recordings
Passion signature pure Silver tone arm cable
http://www.hanss-acoustics.com/
We specialise in Custom Finish Substantially upgraded Linn LP-12's

Pictured below are two of the New Vinyl Passion Upgraded VP-12 Turntables currently on Demo at our Premisses in Nottinghamshire & Also Brian & Trevor's Manchester

We can achieve any custom finish in any colour or wood you desire black, Pink, ?

Airbrushed psychedelic ?

Or even gold plated.. the only limitation to the look of your custom Vinyl Passion LP-12 is your imagination our Turntables are custom hand built for you.. or we can even re furbish you old deck and make it look as good as it sounds

if you are after something unique with the finest reproduction possible you are in the right place

Vinyl Passion !

Custom wood Build Cost or upgrade of your LP-12 varies with options contact for quote & prices

Donor Turntables and new parts always in stock

VP-12 Unity - Two in custom Kalos English Oak plinth
VP-12 Unity-Two - Full Stealth Black
LP-12 Stelth Build Cost or upgrade of your LP-12 varies with options contact for quote & prices
Donor Turntables and new parts always in stock
Click to read Unity Two Hi Fi World Review 2014
Welcome to the heart of the Machine Click for detailed design info
Designed By The Missing Link
Fitting & setup at our premises we can suply LP-12 Packing if required
Quality Approved fitting by Brian & Trevors The Missing Link & Stamford Audio
Available DIY from
The Missing Link
Or simply ask your local dealer to contacts us for info
Simply the best Quality & Value Linn LP-12 Upgrades available
Advised Vinyl Passion Upgrades and spares in stock for your LP-12 / TD-150
VP-1 Carbon Acrylic arm board available for Linn Rega & SME £69 Naim Aro £95
VP- Unity-One Kit includes Subchassis + VP Blue Springs & VP bearing clamp with precision torque fitted VP-1 Carbon Acrylic Armboard Linn/Rega/SME
Naim Aro
VP- Unity-Two kit includes Subchassis + VP Blue Springs & VP bearing clamp with precision torque fitted CNC Alloy Armboard Linn/Rega/SME
Naim Aro
VP Unity-1 Subchassis only + VP bearing clamp Ideal for existing VP-1 armboard owners
Vinyl Passion Master Craftsman LP-12 Plinths

We are pleased to announce our own range of affordable Quality Vinyl Passion Master Craftsman Plinths for the Linn LP-12
It has taken several years to find a master craftsman cabinet maker who can work to the exacting tolerance and finish we require
All of our exquisite plinths are made from ethically sourced well seasoned stable hard woods picked specifically for their grain.
Our new range of Master Craftsman LP-12 Plinths are available from stock in Black Ebony polished Oak - Light Oak - Walnut & Cherry at our standard price of £400 ..
We can also obtain many special woods and finishes to special order please contact for a quote...
We offer a full rebuild and fitting service at our premises or we are happy to supply direct or to your local specialist Linn dealer
The Vinyl Passion Master Craftsman plinths are a hand made work of art that will make your turntable look as good as it sounds and when matched with one of our Vinyl Passion Orpheus top plates will give your LP-12 that brand new look as well as an improved performance..
Kalos Reference English Hardwood plinths & Bespoke Hi Fi furniture
Vinyl Passion are proud to offer The finest Quality Kalos Bespoke plinths.. they can be custom matched to your Kalos Hi Fi furniture from a full Hi Fi rack that looks like a piece of beautiful furniture when not in use to a bookmarked matching coffee table or Record storage unit..
Kalos Bespoke Joinery is not simply furniture.. Each piece is a work of art Created by British craftsmen from the finest Ethically sourced English Timber with English Quarter Sawn Oak being a speciality and more than just material itís a piece of English Heritage.. Kalos Plinth each unit is truly individual...
Current stock Kalos LP-12 Plinth.. no 0003
VP 10mm Foundation Acrylic baseboard with solid brass feet far superior to trampoline
Orpheus Top Plate upgrade kit made from 2mm 316 stainless steel this is much stiffer and less resonant than the standard LP-12 top plate and maintains the same classic look at a realistic price available with our without speed switch cut out
Kit includes all new Stainless fasteners including corner bolt fixing and is pre formed for a perfect fit
This can also be fitted at our premises or one of our approved fitting centres or supplied to your local specialist
Cross brace power supply mounting plate with nylon mounting clips & stianless fateners
Top plate mounting kit 5x stainless bolt kit including new upgraded stainless penny washers
VP 3mm Carbon Acrylic platter mat custom color's by request
Herculese power supply ... modified to drive Thorens 16 pole motors + £70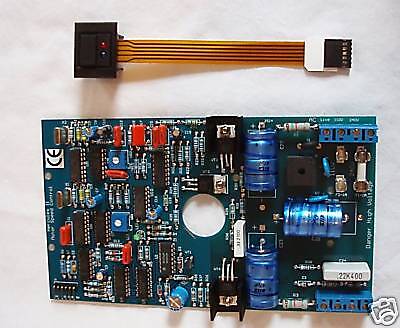 Mose off board power supply
Vinyl Passion Revolution 2 speed Power Supply
Single speed
This will be available for both Linn Thorens & Logic turntables
And can be adapted for many other AC 16/24 Pole motors by request...
This picture on the left is the Quality of the output waveform from Hercules & Valhalla supply
The Picture on the right is the pure sine output of the New VP Revolution 2 speed modified supplies
matching the quality of the Lingo and bringing a perfectly silent & stable supply
without the distortion that creates both vibration and noise in AC motors a huge upgrade
New motor
Valhala rebuild re cap + new rectifier and ballast resistors
Full inspection & Setup including oil change + any parts advised
Replacement genuine Linn belt Free Fitting
and correct adjustment
Replacement Cartridge fitting and aligning service
Genuine Linn Replacement Nivarna Spring's & Rubbers
Vinyl Passion Blue Spring's & Rubbers
Carbon fiber top plate finish in many Color options special finish by request
VP Anti harmonic coated platter finish reduces platter ringing large range of Color's
VP-1 Polymer Arm board kit / Standard Linn replacement / Rega /SME / Blank.
VP-2 Aerospace Alloy Arm board Kit / Standard Linn replacement / Rega /SME .
SME Cut
Rega Cut
Linn Cut
Naim Cut £95
The Legendary TD 150
The TD-150 was my first quality turntable and has rightly achieved cult status ... it can easily keep up with the Linn with the right modifications
We offer a full rebuild & restoration service and range of upgrade kits for this superb peice of history - we also have a selection of rebuilt VP-TD-150'S on demo..
Below is the same TD-150 Rebuilt with one of our kits with the addition of our specialised 50 micron anti resonant aerospace polymer coating to the platter and a carbon finish top plate.. the plinth is machined with rebate to take one of our clear acrylic lids
TD 150 Black & wallnut built to Order
TD-150 Crusader Finished in all white - built to order...
We can offer a wide range of custom finishes and specs on all turntables including custom engraving and colour finshes
TD-150's custom built to your spec & Finish
Hard wood plinth as used above with silver plated IEC Socket in Oak or painted in colour of your choice
Clear lid to match plinth £100
Polymer Armboard cut to suit plinth and arm combo £60
new stainless suspension kit
Blue Spring Kit
Acrylic platter mat
Full kit with all of above except platter coating
Cable upgrades
Standard Tone arm cable upgraded with Eichmann bullets £45/ Silver bullets
Revelation AG
The Log-Rhythm MK-2 Phono Interconnect
Passion signature
Opus-F 1m power cable
Enjoy the music... Regards Mark & Jan